Gold Star Rated on Parts Trader
Sub Wrecks has achieved the highest rating available for PRICE, PARTS QUALITY, and DELIVERY on PartsTrader. The industry-leading marketplace for Panelbeaters and Insurance companies to purchase Car Parts
100% Positive Reviews on
Trade Me
New Zealand's Subaru Parts Specialists That Deliver Nationwide
Mark and the team have been dismantling and supplying Subaru parts to panel beaters, mechanics, insurance companies, and private Subaru owners all around New Zealand for 20+ years.
We send Subaru parts around New Zealand every day so you can be assured we're fully dedicated to delivering the right parts for your Subaru, hassle free, on time and in one piece.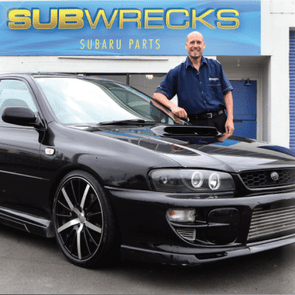 Ordering Parts
Subaru parts can be different for certain models, engines and transmissions. If your unsure call us or submit a parts request
Payment Options
You can pay by credit card or debit card over the phone, do a bank transfer or set-up a trade account. We are not part of the Capricorn society.
Delivery Times
Your Subaru parts can be delivered to your home or place of work - in most cases the next day!
Available Parts
We have a massive amount (over a million items) of quality used Subaru parts for all models of Subaru vehicles available on the New Zealand market. But that's not all, we also stock & have access to any new genuine Subaru parts available to order.
Subaru Stock
We are always getting in new stock. Browse our newest batch of Subaru cars in stock and dismantling for parts now.
Business Hours
Mon - Fri: 8:00 am - 5:00 pm
Sat - Sun: Closed